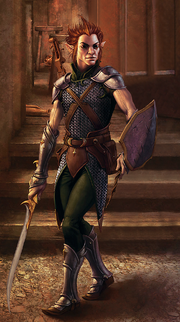 Like elves, gnomes are creatures of the Feywild. However, unlike elves, gnomes came to this world out of simple curiosity. Gnomes are blessed, or cursed as some say, with an insatiable curiosity about the world and how it works. Gnomes are willing to see everything that the world has to offer and greet every new sight with open wonder.
Long ago, gnomes were slaves to the fomorians and as such feel a certain kinship with dwarves. For their part dwarves view gnomes with the came stoic cynicism as they greet everything else. Gnomes also dislike goblins and kobolds but tend to avoid them rather than confront them head on.
Ad blocker interference detected!
Wikia is a free-to-use site that makes money from advertising. We have a modified experience for viewers using ad blockers

Wikia is not accessible if you've made further modifications. Remove the custom ad blocker rule(s) and the page will load as expected.